Pišite nam ali pa nas obiščite. Adriatiqa
AdriatIQa | ATE Globalis d.o.o.
Stegne 7 | 1000 Ljubljana
Pon-Čet: 8.30 – 16.30
Pet: 8.00 – 16.00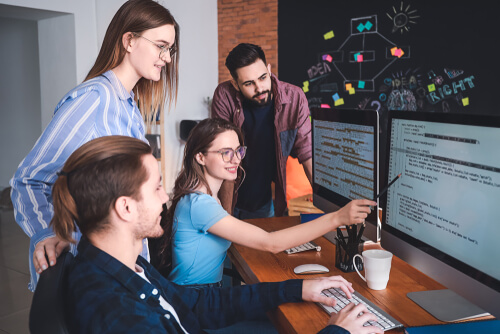 Prevajanje spletnih strani – zakaj je pomembno?
Se sprašujete, zakaj bi se odločili za prevajanje spletnih strani? Zato, da dosežete nove stranke, razširite svojo prepoznavnost in povečate prodajo svojih izdelkov ali storitev.
Statistika govori v prid prevajanju spletnih strani:
več kot 100 milijonov ljudi obiskuje le spletne strani, ki so napisane v njihovem maternem jeziku
več kot 50 odstotkov iskanj na iskalniku Google je v jeziku, ki ni angleščina
spletni uporabniki se štirikrat pogosteje odločijo za nakup izdelka na strani, ki ponuja opis v njihovem maternem jeziku
obiskovalci spletnih strani ostanejo na spletni strani v povprečju dvakrat dlje, če je napisana v njihovem maternem jeziku
Če želite prodreti na tuje trge in privabiti stranke iz tujine, se torej čim prej odločite za prevajanje svojih spletnih strani in si tako povečajte možnost za uspeh. Z večjezično spletno stranjo boste dokazali, da mislite na stranke.
Preden oddate naročilo za prevod spletne strani, razmislite, katere vsebine na spletni strani morajo biti na voljo tudi v tujih jezikih, katere pa so namenjene le domačemu trgu.
Naši prevajalci vam bodo zagotovili kakovosten prevod spletne strani, ki bo dobro berljiv v tujem jeziku. Poskrbeli bomo za lokalizacijo, tako bo spletna stran prilagojena potrebam in zahtevam lokalnega okolja. Poleg tega vam bomo na voljo na dolgi rok in vam prevode nudili tudi kasneje pri dodajanju svežih vsebin na vašo spletno stran.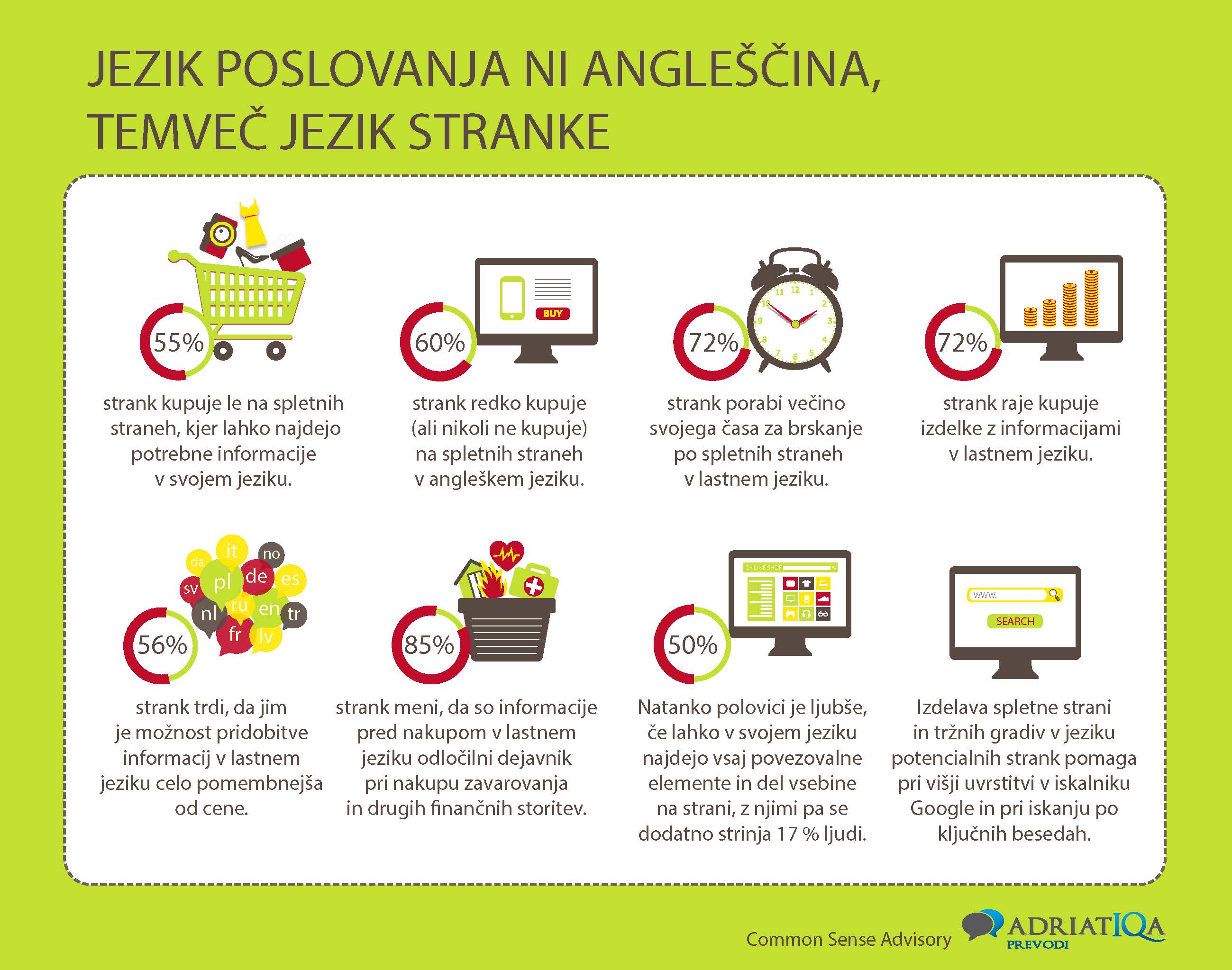 STROKOVNJAKI ZA OSVAJANJE TUJIH TRGOV
Smo strokovnjaki na svojem področju – ponujamo vrhunske storitve. Naši prevajalci in strokovnjaki za multimedijo si prizadevajo, da bi vaša spletna stran postala priljubljena v tujini. Pozorni smo na podrobnosti, saj natančno prenašamo pomen, slovnico in slog.
Uporabljamo jezik, specifičen za posamezno panogo, in nobeno področje nam ni tuje, zato so naše storitve prevajanja spletnih strani namenjene vsem podjetjem, ki jih zanima vstop na svetovni trg.
Z našimi storitvami prevajanja in lokalizacije spletnih strani in aplikacij vam omogočamo, da dosežete poslovne partnerje z vsega sveta in globalno tržite svoje izdelke.
Prevajamo statične in dinamične spletne strani, ki uporabljajo HTML, SGML, XML, CGI, PHP, ASP ali Flash, ter njihovo vsebino prilagajamo ustreznim konvencijam ciljnega trga. AdriatIQa ponuja storitve prevajanja spletnih strani v več kot 30 jezikih v različnih kombinacijah. Poleg tega prevajamo tudi multimedijske aplikacije in aplikacije za e-učenje, ki vključujejo dinamične animirane vsebine in grafike ter zvočne in video posnetke ter komentarje.
DOSEGAJTE STRANKE Z VSEGA SVETA IN TRŽITE SVOJE IZDELKE PO VSEM SVETU.
Možnost doseganja veliko večjega trga in potencialnih strank je glavni, a ne edini razlog, zakaj morate prevesti svojo spletno stran. Drugi razlog je, da prevod poveča ugled podjetja v očeh strank.
Z večjezično spletno stranjo se predstavimo kot organizacija, ki je ozaveščena, odprta za mednarodne izzive ter si prizadeva za razvoj in izboljšanje svojega dela. To so lastnosti, ki jih bo cenila vsaka stranka. Prevajanje spletne strani odpira možnost pridobivanja tujih strank.
Številne stranke, tudi domače, od svojih sodelavcev, dobaviteljev ali podizvajalcev pričakujejo, da govorijo angleško. Bolje je, da potencialne stranke ne zmedemo, temveč ji takoj pokažemo, da storitve za stranke zagotavljamo tudi v tujih jezikih!
Seveda nihče ni dolžan imeti spletne strani v določenem jeziku. Pa vendar so skoraj vse knjige prevedene v španščino, nemščino, angleščino in več drugih jezikov. Spletne strani so pomemben odraz podjetja, zato je prevajanje vsekakor smiselno.
KAKO PREVESTI SPLETNO STRAN?
V osnovi imamo dve možnosti. To lahko storite sami ali pa sodelujete s strokovno prevajalsko agencijo. Če res dobro obvladate tuji jezik, se lahko preizkusite v izzivu prevajanja spletne strani. Če pa imate občutek, da bi moralo biti vaše jezikovno znanje boljše, se vsekakor splača za pomoč prositi profesionalno prevajalsko agencijo.
Na tem mestu je treba omeniti, da uporaba programov za samodejno prevajanje, kot sta Google Translate ali Microsoft Translator, ni priporočljiva. Če želimo, da naše besedilo ne bo vsebovalo napak in napačnih prevodov, moramo sodelovati s prevajalcem.

Lokalizacija ni samo prevajanje iz enega jezika v drugega.
Z njo lahko zagotovite, da se v postopku prevajanja spletne strani upoštevajo lokalne kulturne občutljivosti in družbene razmere. Nova vsebina mora biti v pravem tonu in ne sme vsebovati besednih zvez, ki bi bile nenaravne za vaše ciljno občinstvo. Za podjetja, ki se želijo razširiti na nove trge, doseči ljudi po vsem svetu in povečati prodajo na mednarodni ravni, je lokalizacija običajno nujna.
Prevajalska agencija AdriatIQa že vrsto let zagotavlja celovite storitve lokalizacije spletnih strani v več deset jezikov za različne panoge. Če iščete izkušeno prevajalsko agencijo, ki prevaja in lokalizira spletne strani, tudi za namene SEO, se obrnite na nas!
KAKO POTEKA POSTOPEK LOKALIZACIJE SPLETNE STRANI?
1. Poizvedba o novem projektu
2. Analiza izvornega gradiva – določitev obsega naročila in obsega storitve (na primer: tehnični vidiki, grafični razvoj, delo v naročnikovem sistemu CMS), ciljnih prejemnikov in poslovnih ciljev; analiza kulturnih razlik
3. Priprava časovnega načrta in načrtovanje proračuna – načrtovanje stroškov, priprava časovnega načrta, izbira strokovnjakov
4. Razvoj terminologije – analiza ključnih besed z vidika SEO, oblikovanje in preverjanje začetnih glosarjev v sodelovanju z naročnikom
5. Prevajanje besedila v ciljni jezik
6. Neodvisno preverjanje – analiza prevedene vsebine z vidika skladnosti z izvirnikom, jezikovna korektura
7. Naslednji korak je kulturna prilagoditev – prilagajanje vsebine ciljnim trgom (opravi ga materni govorec)
8. Grafično oblikovanje (DTP) – prilagoditev postavitve in grafičnega oblikovanja ciljnim trgom
9. Končni pregled besedila, tudi vizualni
10. Naslednji korak je analiza besedila s strani stranke – stranka pregleda dokument in lahko poda pripombe
11. Končno urejanje – na primer preverjanje pripomb, ki jih je posredovala stranka, in njihova vključitev v končno različico dokumenta
12. Testiranje – tehnično testiranje lokalizirane vsebine pred objavo
13. Predaja končnega izdelka stranki
14. Vsak projekt prevajanja spletne strani se analizira individualno, zato vsakič niso potrebne vse zgoraj omenjene faze postopka obravnave naročila. Vsako naročilo se izvede v skladu s pričakovanji stranke, proračunom in projektnimi predpostavkami